Jason Parker Trio at Gage Academy of Art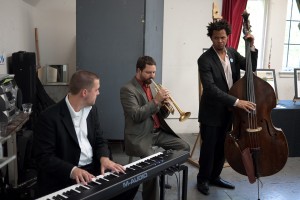 We had the real pleasure of playing at the Gage Academy of Art in Seattle the other night for their "Best of Gage" celebration. D'Vonne was on tour with another band so Josh, Evan and I played as a trio and had people dancing and enjoying the tunes while they perused the art on display. It's always inspiring to be around art of any kind, and the students at Gage are really talented!
Thanks to Lauren and all at the Academy for having us, and for making up this extra spiffy signage! Also, thanks to Matt Brown of Things That Are Brown for the nice photo of the trio above.