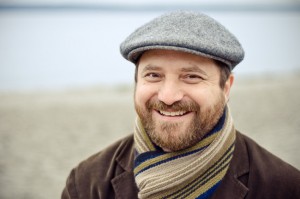 Hi! I'm Jason, and I lead the Jason Parker Quartet. To say that my life is a dream come true is not an overstatement.
Ever since I can remember I knew that I wanted to play music. I grew listening to equal parts classical music (my Dad's choice) and 60's folk music (my Mom's choice). I started playing both trumpet and piano at the age of 8. It was a visit by Dizzy Gillespie to my elementary school that lead me to the trumpet, and the rest, as they say, is history.
I joke that I was a professional musician from the get go, because my mom used to pay me to practice, 25 cents for every 15 minutes! Needless to say, I practiced like crazy, and soon became the best trumpet player at my school. Through high school I was a total band nerd, playing in the marching band, jazz band, and leading my own brass quintet (A Touch Of Brass – I thought that was the most clever name ever!).
I started college as a music major, but my life took a left turn when I walked into the college radio station. I fell in love with radio and for the next ten years bounced around, finally ending up as the Program Director at the great Seattle radio station 103.7 The Mountain, where I got the chance to meet some of my heroes like David Bowie, Joni Mitchell, Lyle Lovett and others.
In 1995, my trumpet, which had been sitting on a shelf, started calling to me. I pulled it down one day, blew a few notes, and I was home. I started the JPQ almost immediately and we began playing weddings and events around Seattle. The current line-up, with Josh Rawlings on piano, Evan Flory-Barnes on bass and D'Vonne Lewis on drums, has been together since 2007. We have released 5 CD's and played countless shows in Seattle and around the West Coast. Josh, Evan & D'Vonne are three of my closest friends and the most talented and inspiring musicians and human beings I could hope to play with.
I live in North Seattle with my beautiful wife (who, by the way, is an awesome photographer) and our daughters Sadie and Hannah. Our wedding was the happiest day of my life, filled with joy and love and family and friends. From that day, I learned how special weddings can be, and I'm always honored to be asked to share the most special of moments with the couples that we play for.
So yes, I'm livin' the dream! I'm passionate about living life to the fullest, chasing my dreams, and bringing my joy of playing music to each and every moment.
I also blog about my life as a working musician, which you can read here.