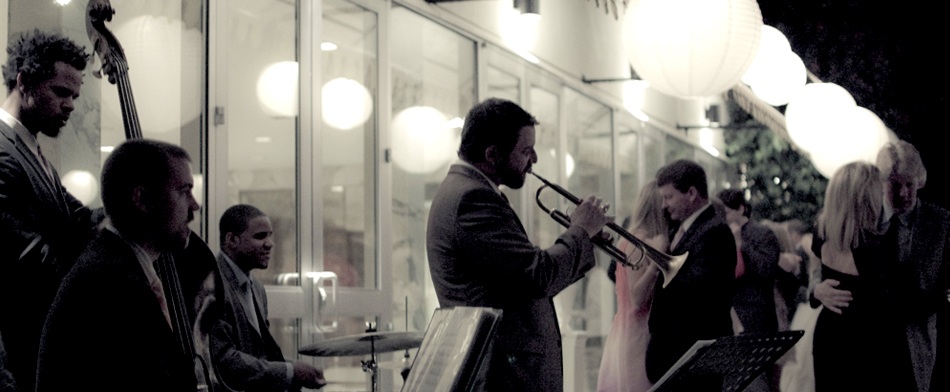 Congratulations on your upcoming wedding! You've embarked upon quite a journey, one of the most exciting and rewarding of your life. You have lots of decisions ahead of you and I'm here to help you cross one of them off your list!
We'll bring the class & fun so you can relax & enjoy!
The Jason Parker Quartet has played for hundreds of couples since 1999. Each of the weddings we've been involved with has been special and unique, but they've all shared two common characteristics: they've been classy and they've been fun! And every one of our couples has told us that our music helped create just the right mood for their special day.
"The JPQ was the perfect band for our wedding reception. Aside from the great music and style, the band was reliable, on time, respectful, and professional. Considering how hectic everything else can be before a wedding, it was a great comfort to know that the JPQ was something we didn't have any worries about. We'll both happily recommend them to anyone we know who's looking for a jazz band for any occasion. Thanks again!" –  Ryan & Amy
Personal attention = a wedding that is uniquely yours
When you hire the JPQ, you get my full attention. I will work with you personally to craft the perfect musical accompaniment to each part of your wedding day. Together we'll pick the music to play as your guests arrive and see your wedding venue for the first time. We'll go over all the possibilities for your ceremony music, from the traditional to the most uniquely you. We'll create a comfortable playlist for your cocktail hour and dinner music. And if you and your guests are the dancing type, we'll select the perfect tunes to ramp it up as the reception kicks into high gear and the shoes come off!
Click here to see video of the JPQ in action.
Click here to see our Frequently Asked Questions page.
Click here to see our sample song list.
Click here to see our Testimonials page.
It's never too early to book the right band
To find out if the JPQ is the right band for you, click here to set up a time to meet for coffee. We'll talk about your big day, get to know each other a little better, and find out if we're a good fit.