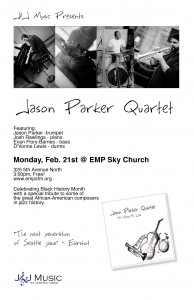 If you've been considering having the Jason Parker Quartet play at your wedding, here's a chance for you to see us perform live in a beautiful venue. Once you see and hear us play, I'm certain you'll want to book us for your big day!
We'll be playing at the Experience Music Project in the gorgeous Sky Church. If you haven't been there before, this is one of the most stunning venues in the Seattle area. You can even book it for your wedding if you are looking for a place that will blow your guests away!
We'll play from 3-4pm and it's free and all-ages. In honor of Black History Month we'll be paying tribute to some of the great African-American composers in jazz history.
If you make it out, be sure to stop and say hello after the show!