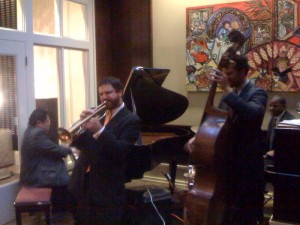 We had a wonderful time playing for the Buchanan wedding at the Library Bistro. This is such a nice, laid-back venue, which fit the happy couple perfectly! The ceremony was short, and Evan even jumped in at the request of the officiant to accompany him on bass as he read a poem by Khalil Gibran! It was very cool.
Meghan asked us to come up with our own version of "I Gotta Feeling" by Black Eyed Peas as her processional song, which I thought was an inspired and groovy choice! We did our very best and had a great time doing it. I love it when couples pick songs that have special meaning for them!
The whole evening felt like a really fun party for the couple and their friends and family, which is how it should be!