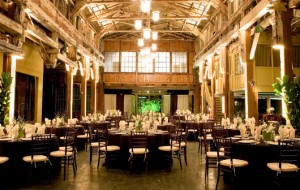 We had the pleasure of playing for Jocelyn & Tim at their wedding at Sodo Park. The venue is absolutely gorgeous and run by Herban Feast, so you know the food is going to be good!
The wedding was beautiful, as were the bride and groom. Josh and I played for the ceremony and then the rest of the band joined for the cocktail hour, dinner and dancing. It's such an amazing room to play in with all the exposed beams and wonderful contrast of old-world charm and modern amenities.
Plus, we had the good fortune of working with Holly-Kate from Sweet Pea Events, one of our favorite wedding coordinators. We know when HK is in the room that everything is going to be organized and go off without a hitch!
The couple decided on their first dance song at the very last minute, which turned out to be "I Could Write a Book". We did it Miles Davis-style and everyone loved it.
Here's a few pictures of the band, taken by Amber French: