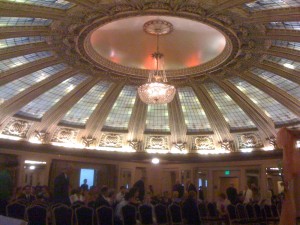 I love to play in the Northern Lights Dome Room at the Arctic Club Hotel in downtown Seattle. It's one of the most magnificent and classy rooms in town and the staff is second-to-none. They treated us right Sunday at Lisa & David's beautiful wedding.
Lisa & David and a traditional but not stuffy Jewish wedding ceremony, which gave us an opportunity to play our arrangements of "Hevenu Shalom Aleichem" and "Etz Chaim", always a treat. And once the reception was in full swing and we busted out a rousing version of "Hava Nagila" the dance floor was packed and jubilant!
We also had the honor of being joined by our dear friend Isabella DuGraf. Bella is a vocalist extraordinaire who has been studying at the New England Conservatory of Music in Boston and has flown back to Seattle for the summer to join us for a few weddings. Everytime I get to play with her she gets better and better, and she fits in with the band beautifully.
Lisa was the center of attention in her gorgeous gown and huge smile all night long! However, her father's toast was hilarious and he almost wouldn't give up the microphone! Once he did, he hit the dance floor with reckless abandon! So nice to see a family truly enjoying the moment. We are privileged to spend these precious moments with people like Lisa, Dave and their family and friends.
Monday David sent me this nice note: "We both enjoyed you and the band very much on our big day. It couldn't have been better."