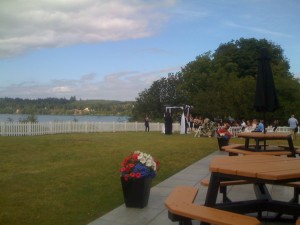 We had the pleasure of playing at Sarah & Gabe's wedding in Port Gamble this past weekend. I've driven through Port Gamble many times on my way to Port Townsend and always loved this cute little waterfront town on the Hood Canal, but this is the first time I ever stopped there. I'm so glad I did! It's a quaint town that has a very relaxed feel to it. And gorgeous views from just about anywhere!
Sarah & Gabe were married in the Hood Canal Vista Pavilion, which definitely lives up to its name! Josh and I played the ceremony and then Evan and Adam joined us for the reception and dinner. This was a fairly intimate wedding and all of their family and friends were very good to us. A couple guests even asked for CD's, which is always a good sign!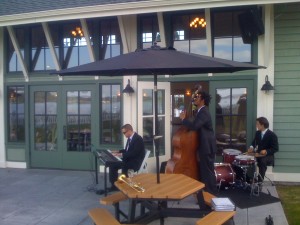 We are fortunate to live in such a beautiful part of the world and I love to find new and undiscovered places to play and enjoy the scenery. Thanks to Sarah & Gabe for the excuse to finally stop in Port Gamble…I'll definitely be back! If you're looking for a gorgeous waterfront option for your wedding, definitely check them out!